" No Scandinavian group since Atomic has so powerfully addressed and remade the free jazz of the 60s like Cortex. In a country whose creative music scene is celebrated for its bold hybrids of disparate sounds, Cortex goes another way, embracing tradition in its own unique way, with a personality sketched out by the strength of Johansson's indelible themes and four distinctive improvisational voices." .
- Peter Margasak, Chicago Reader -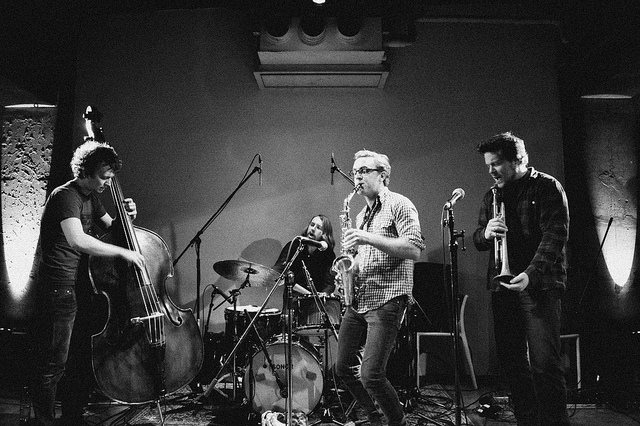 This fall we are touring the southern region of Norway, and the tour has mainly been organized by Sørnorsk Jazzsenter! They are the Jazz center of the southern region in Norway, and we are very thankful for their great work in putting bands on the road!
Our dear Gard Nilssen is awaiting his first child this period, and we have gotten the great Dag Erik Knedal Andersen to be our sub for this tour!

Tour list:
11.09: Vågsbygd VGS
11.09: Kristiansand Jazzvesen
12.09: Dahlske VGS
12.09: Arendal Jazzklubb
13.09: Risør Jazzklubb
14.09: Flekkefjord Jazzklubb
15.09: Mandal Jazzklubb
18.09: Nasjonal Jazzscene
19.09: Skien VGS
19.09: Skiensjazzdraget
20.09: Bø Jazzklubb
We are well on our way with our fifth US-Tour, and the shows in Orlando and Columbia was great! Thanks to everybody who came out to see us!
But, sadly, we have decided to cancel our shows in Richmond and DC due to the extreme weather conditions. Hurricane Florence was on our doorsteps, and we could not take the risk of driving straight through the hurricane to get to Richmond and DC:
This is the first time this band is cancelling a show ever, and we feel really bad about it!!!! We are so sorry, and we hope that our friends and audiences in Richmond and DC understands. We'll definately come back for our next US-tour and make up for it!
The next shows goes as scheduled.
All the best from Thomas, Kristoffer, Ola and Gard!
Spring Tour!
Starting this Saturday, we embark on our spring tour of 2018!
We start of in Voss - Norway on Saturday, and end at Klub Gromka in Ljubljana next Sunday. We are also playing the great Nattjazz festival in Bergen in the beginning of June.
Good times ahead, be sure to check us out if you are nearby any of the gigs.
We´ll also bring lots of LP`s of "Avant-Garde Party Music", as well as other records and totes!
See you around!
Tour dates:
14.04: Voss Jazzklubb, Voss
18.04: Kulturni Centar Mesnicka, Zagreb
19.04: Centro d`Arte, Padova, Italy
21.04: In Situ Art Society, Bonn, Germany
22.04: Klub Gromka, Ljubljana, Slovenia
02.06: Nattjazz, Bergen
Reviews!
We are very humble and pleased to have received several very nice reviews on "Avant-Garde Party Music"!
Some highlights:
«Keeping with its title, the music is a celebration, a soirée, and a jamboree!»
- Mark Corroto, 4/5 of 5 stars in All About Jazz
"Cortex' femte album befester kvartettens posisjon som en av norsk jazz' sterkeste egenstemmer.»
- Terje Mosnes, Jazzinorge.no
"Johanssons komposisjoner klarer bare så vidt å holde igjen bandet, som farer av sted som ville hester over alle hauger, det slår virkelig gnister av Ola Høyer på kontrabass og Gard Nilssen på trommer.»
- Audun Vinger, DN
"Don't sleep on this, it's one of the best albums of the year, and this band is unstoppable."
- Tim Niland, Music and More
Links:
All About Jazz
Music and More
Jazzenzo
Jazztrail
Jazzinorge.no
SaltPeanuts.de
Lira
Tor de Jazz
DN.no
UPCOMING SHOWS:

11.09: Vågsbygd VGS
11.09: Kristiansand Jazzvesen
12.09: Dahlske VGS
12.09: Arendal Jazzklubb
13.09: Risør Jazzklubb
14.09: Flekkefjord Jazzklubb
15.09: Mandal Jazzklubb
18.09: Nasjonal Jazzscene
19.09: Skien VGS
19.09: Skiensjazzdraget
20.09: Bø Jazzklubb
PREVIOUS SHOWS
2018:
12.09: The Iron Cow, Orlando
14.09: iF Art Center, Columbia
15.09: The Black Iris, Richmond Cancelled!!
16.09: Rhizome, WashingtonDC Cancelled!
17.09: The Niles Gallery, Lexington
18.09: Bop Stop, Cleveland
20.09: Elastic Arts, Chicago
21.09: Kerrytown Concert House, Ann Arbor
22.09: James May North Gallery, Algoma, Wisconsin
15.03: Nasjonal Jazzscene, Oslo
14.04: Voss Jazzklubb, Voss
18.04: Kulturni Centar Mesnicka, Zagreb
19.04: Centro d`Arte, Padova, Italy
21.04: In Situ Art Society, Bonn, Germany
22.04: Klub Gromka, Ljubljana, Slovenia
02.06: Nattjazz, Bergen
2017:
13.01: Hadeland Jazzforum
16.01: PØKK!, Trondheim
10.03: Art Acts, St. Johan
30.06: Gocka Garden Music Festival, Serbia
01.07: Jazzibar Festival, Kraljevo, Serbia
12.07: Copenhagen Jazzfestival
26.08: Jazz Festival Saalfelden
22.09: Bimhuis, Amsterdam
03.10: The Tambourine Lounge, Sturgeon Bay WI
04.10: Constellation, Chicago IL
05.10: Bop Stop, Cleveland OH
06.10: Trinosophes, Detroit MI
08.10: The October Revolution Festival, Philadelphia PA
10.10: Nu Blu, New York City NY
11.10: Neptunes Parlour, Raleigh NC
12.10: If Art Gallery, Columbia SC
13.10: Petras Bar, Charlotte NC
16.10: CM5, Orlando, FL
2016:
15.02: Moskus, Trondheim
17.02: Hendrix Ibsen, Oslo
18.02: Hamar Jazzklubb, Hamar
21.02: Playdate, Bergen
19.03: Vossajazz, Voss
21.05: Jazz Cerkno, Cerkno
22.05: Ring Ring Festival, Belgrade
23.05: NMH Exam Concerts, Nasjonal Jazzscene, Oslo
22.06: The Royal Room, Seattle, USA
23.06: Skin&Bones, Kelowna, Canada
25.06: Vancouver Jazz Festival, Canada
26.06: Hungry Brain, Chicago, USA
28.06: Trinosophes, Detroit, USA
29.06: Bop Stop, Cleveland, USA
30.06: Rochester International Jazz Festival @ 7:30 pm
30.06: Rochester International Jazz Festival @ 9:30 pm
17.08: Blow Out! Festival, MIR, Oslo
11.10: Skiensjazzdraget, Ibsenhuset, Skien
12.10: Bø Jazzklubb, Bø Hotell
13.10: Nasjonal Jazzscene - Clean Feed Label Night, Oslo
2015:
20.01.15: B-Flat, Berlin
22.01.15: Café De Ruimte, Amsterdam
24.01.15: Sound In Motion, Zuidpershuis, Antwerpen
18.03.15: Nasjonal Jazzscene Victoria, Oslo
10.05.15: SpringOn! Festival, Porto
27.05.15: Cultural Centre Dom, Moskow
29.05.15: Nattjazz, Bergen
02.07.15: Kongsberg Jazzfestival
09.09.15: Constellation, Chicago
10.09.15: Sattelite Records, Kalamazoo
11.09.15: The New Ghost Series, Cleveland
12.09.15: Farish Theater, Lexington Library
13.09.15: The Shed, Durham
14.09.15: Conondrum, Columbia
15.09.15: Kings Barcade, Raleigh
17.09.15: Shapeshifter Lab, NYC
18.09.15: iBeam Brooklyn, NYC
09.10.15: Stavanger Jazzforum - Norway
10.10.15: Bømlo Kulturhus - Norway
11.10.15: Kabuso - Øystese - Norway
12.10.15: Voss jazzklubb - Voss - Norway
13.10.15: United World College - Fjaler - Norway
2014:
20.01.14: Arendal Jazzklubb, Arendal
21.01.14: Big Dipper, Oslo
12.03.14: New Combo, Fukuoka, Japan
13.03.14: Ashita No Chitzu, Kagoshima, Japan
14.03.14: At Hall, Oita, Japan
16.03.14: Big Apple, Kobe, Japan
17.03.14: Jazz Spot Candy, Chiba, Japan
18.03.14: Super Deluxe, Tokyo, Japan
04.04.14: Kaffefuglen, Oslo
21.05.14: Nutshell, Nattjazz, Bergen
05.07.14: Ljubljana Jazzfestival, Slovenia
10.07.14: Jazz im Goethe Garten Festival, Lisboa, Portugal
11.07.14: S.M.U.P, Parede, Portugal
03.08.14: Clusone Jazz Festival, Clusone, Italia
17.09.14: Jazz Evidence, Kongsberg, Norway
18.09.14: Storyville Jazzklubb, Molde, Norway
19.09.14: Chagalle, Bergen, Norway
20.09.14: Zoid!, Tou Scene, Stavanger, Norway
17.11.14: Jazztopad, Wroclaw, Poland
12.12.14: Jazz Bez Festival, Lublin, Poland
2013:
27.02.13: Volume 7, Tours, Frankrike
28.02.13: Le Periscope, Lyon, Frankrike
01.03.13: Velvet Club, Turin, Italia
02.03.13: Condorito Club, Cuneo, Italia
25.05.13: Nattjazz, USF Verftet, Bergen
12.09.13: Nasjonal Jazzscene Victoria, Oslo
13.09.13: European Jazz Meeting, Dokkhuset, Trondheim
09.10.13: Ad Lib Jazzklubb, Sinus, Bodø
10.10.13: Skiensjazzdraget, Sitt Ned, Skien
11.10.13: Glen Miller Café, Stockholm
12.10.13: Glen Miller Café, Stockholm
27.11.13: Czech Radio Jazz Fest, Jazz Dock, Praha
30.11.13: Nublu – New York
02.12.13: The Shrine – New York (Harlem)
03.12.13: Ars Nova Workshop – Philadelphia
06.12.13: Firehouse – Brooklyn, NYC
07.12.13: Orion – Baltimore
10.12.13: Jerrys – Chicago
11.12.13: The Sugar Maple – Milwuakee
27.12.13: SMOG, Kafé K, Porsgrunn
2012:
29.02: ÆÆ/Cortex/Lord Kelvin Bonanza. Blå, Oslo
01.03: Sitt Ned Kunst og Café, Skien
03.03: Antikvariatet, Trondheim
02.03: Nasjonal Jazzscene, Victoria, Oslo
26.04: Soddjazzfestivalen, Inderøy
26.09: Jazz Evidence, Kongsberg Jazzklubb
22.10: Sund FHS, Inderøy
23.10: PØKK! Blæst, Trondheim
24.10: Drammen Jazzforum, Union Scene
25.10: Bøker og Børst, Stavanger
26.10: Teaterfabrikken, Jazzsirkelen, Ålesund
10.11: Sørveiv, Kristiansand
04.12: Blow Out! Mir, Oslo
05.12: Sitt Ned Kunst og Cafè, Skien
06.12: Hamar Teater, Hamar Jazzklubb
12.12: Kaffefuglen, Tokyo – Japan
13.12: At Hall, Oita – Japan
14.12: New Combo, Fukuoka – Japan
16.12: Nu Things, Osaka – Japan
18.12: Super Deluxe, Tokyo - Japan